MusicWorks provides small group music therapy programs to special education, public, Catholic, private and charter schools throughout the Delaware Valley.
Schools and ESY Summer Camps
Autistic Support Classrooms
Emotional Support Classrooms
Multi-Disabilities Support Classrooms
Extended School Year Programs
Summer Camps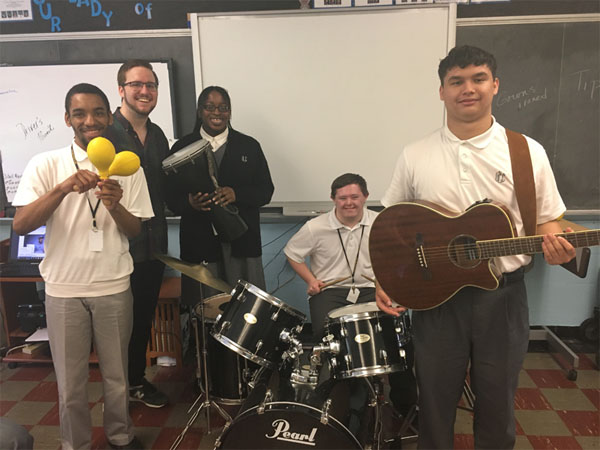 Music therapy uses the basic elements of music to learn reading, mathematics and language processing.
Music therapy helps prepare children academically, socially and musically for successful educational experiences.
Music develops the left side of the brain known to be involved in processing language. Music can wire the brain's circuits in specific ways. "The development of language over time tends to enhance parts of the brain that help process music," says Dr. Kyle Pruett, clinical professor of child psychiatry at Yale School of Medicine and a practicing musician. "Language competence is at the root of social competence. Musical experience strengthens the capacity to be verbally competent."
MusicWorks sparks creativity through music therapy:
"MusicWorks has provided Music Therapy at Overbrook School for the Blind for many years. Our students love working with Emily. She brings energy, joy, fun and lots of musical activities for our students to enjoy. Above all, Emily's enriching sessions are designed with accessibility in mind, and every measure of every song strikes just the right note. Our students have gained skills in communication, physical activity and social interaction through active participation in Emily's music therapy classes. Our staff greatly enjoys these classes too. Emily works with our music teachers as part of our Overbrook team."
Jackie Brennan
Superintendent
Overbrook School for the Blind
See how our Music Therapist "lights up" classes and brings out the best in each child:
"When Schuyler comes to our school, you know it will be a great day! At Saint Katherine School for Special Education, our students light up on Music Therapy days.  MusicWorks and Schuyler have created a wonderful program that allows our students to express themselves through the art of music. Schuyler is so patient and kind to our students. She knows how to bring out the best in each child. Even when a student is having a bad day and having trouble focusing in class, once they have Music Therapy they are motivated and eager to learn the rest of the day. It has opened a world of joy for them that I cannot describe in words. You have to SEE Music Therapy class and how much our students LOVE Music Therapy!"
Lauren Bell
Principal at St. Katherine School
MusicWorks brings "life" and "fun" to the learning environment:
"Our Lady of Confidence School would like to thank MusicWorks and especially Mr. Jake for coming out this school year for music therapy. The music therapist is so kind, fun, welcoming and awesome at getting the students interacting during music therapy. Students are seen during his class being brought to life and having fun through a variety of music activities. His class has also inspired some students to step out of their shell and play on the piano or drums and have all their friends "rock" out with them. He also inspires students to want to learn how to play instruments like the guitar, as he does. We are so grateful to have a great music therapist, teacher and friend!"
Katie Bier
Principal of Our Lady of Confidence