Diane Barber
Ms. Diane Barber has extensive experience as an in-house contracts attorney for companies in the Philadelphia area: Allied Universal Security Services, Aramark and Willis Towers Watson. She has broad based experience in negotiating a diverse array of commercial contracts. From 1988 to 2005, Ms. Barber was Associate Corporate Counsel for The Franklin Mint where she negotiated and drafted intellectual property licenses, merchandise licenses, musical licenses and technology contracts. She is well-versed in advertising, marketing and consumer laws and regulations. Ms. Barber is a graduate of LaSalle University and received her J.D from Duke University School of Law in Durham, NC.
Brenda Duska
Ms. Brenda Shay Duska is a CPA, MT with her own firm, Shay Duska & Company. The firm's primary services include accounting, taxation, and business consulting. From 2001 through July 2007,  Ms. Duska was the Vice President for Finance and Administration at Rosemont College. In 2001, Brenda co-authored the textbook, Accounting Ethics, with her husband Ronald, which is currently in its third edition. She also served as an adjunct faculty member at Rosemont. Ms. Duska is a graduate of Rosemont College, and received her Master's degree in taxation from Villanova University. She is a member of the AICPA and the PICPA.
Linda Hohn
Ms. Linda Hohn is an experienced insurance industry in-house counsel with more than 25 years of service in the property casualty admitted and surplus lines market and is now working as General Counsel and Director of Knowledge Partners at The Institutes in Malvern, PA. The Institutes, a not-for-profit organization, has been the leading provider of risk management and property casualty insurance education for more than 100 years. Ms. Hohn had previously been employed by Global Indemnity Insurance Company as Vice President & Associate General Counsel (1998 – 2015). Prior to that she was employed by and held officer positions at General Accident Insurance Group (1994 – 1998) and Reliance Insurance Group (1984 – 1994). Ms. Hohn has served on the Board of Trustees of The Children's Crisis Treatment Center and as President of the Rosemont College Alumni Board. She is a graduate of Rosemont College and earned her J.D. from Rutgers University School of Law in Newark, NJ.
Wendy Jershky
Mrs. Wendy Jershky has enjoyed a career with Wells Fargo Bank, NA for the last 39 years. She is a Vice-President/Premier Banker in the Newtown Square, PA office. Her responsibilities include lending and financial solutions for both business and personal clients in the community.
 Mrs. Jershky also served on the Business Education Advisory Board for Upper Darby High School, which creates a partnership between the school and business community by examining curriculum and course content for viability in the business world. Mrs. Jershky is one of the founding board members of MusicWorks.
Dan Mansmann
Mr. Dan Mansmann has spent the past seven years working exclusively in the financial services industry, with the past four of these years serving in management. Mr. Mansmann has held licenses in finance, life insurance and real estate. Prior to working in finance, Mr. Mansmann spent 5 years working as world-class tennis coach with the United States Tennis Association and the West Side Tennis Club. His passion for learning how to better develop others led him to pursue his Master of Business Administration from Villanova University. Mr. Mansmann is a graduate of Emory & Henry College in Virginia. He received his MBA in May 2019.
Glenn Marshall
Mr. Glenn Marshall has been the President and CEO of First Resource Bank since its formation in September of 2004 and the opening of the first retail office in May 2005. Mr. Marshall and Lauren Ranalli, the co-founders of First Resource Bank, raised $10.2 million in capital, established all functional systems for the operation of the Bank and assembled a full staff to operate the institution. Mr. Marshall began his banking career with Central Penn National Bank in 1980 and moved to Chester County and joined Hamilton Bank in 1983 as a Commercial Lender. He served in various roles at Chester County-based institutions from 1987 to 2004. Mr. Marshall graduated from Drexel University with a B.S. in business with double majors in accounting and marketing. He has earned his MBA from St. Joseph's University with a concentration in finance and banking. Mr. Marshall serves as a member of West Whiteland Planning Commission.
Bridget Moran
Ms. Bridget Moran joined First Resource Bank in January 2018 as the Vice President Branch Administration. She streamlined branch operations and formalized a comprehensive on-boarding and training program for new team members. In July 2019, Ms. Moran took on an expanded role as Senior Vice President, Retail Banking. She focuses on strengthening the quality of leadership to better support employee development, creating a consistently outstanding customer experience among all channels and growing deposits through meaningful long-term relationships. Prior to First Resource Bank, she was Assistant Vice President, Call Center with a credit union before becoming Vice President, Service and Sales. Ms. Moran graduated from the University of North Carolina Wilmington with a Bachelor's degree in psychology and a minor in sociology. She spent a semester studying and working abroad and continues to love traveling and meeting new people and learning their stories.
Jerry O'Leary
Mr. Jerry O'Leary founded MusicWorks, along with his wife, Lori, to provide music therapy services to children and adults with challenges. Mr. O'Leary has dedicated his past 20 years searching for miracles to help people in need. He trains staff music therapists and delivers music therapy services at the MusicWorks Havertown and Hatboro treatment centers. Whether at a community center, adult day center, special needs school, religious community or assisted living community, Mr. O'Leary touches clients' lives through music. He is a graduate of St. Joseph's University and earned his Master's degree in music therapy from Immaculata University.
Lori O'Leary
Ms. Lori O'Leary co-founded MusicWorks. Since 2002, she has provided marketing, public relations and strategic and financial planning to MusicWorks. She spearheads all business development and fundraising efforts for the agency.  Ms. O'Leary worked for The Franklin Mint in Media, PA, for a decade, where she supervised marketing, new product development, artist relations and licensing divisions. A native of New York City, Ms. O'Leary worked and traveled internationally for Associated Merchandising Corporation, developing goods for major department store chains from 40 overseas markets. She is a graduate of Vassar College in Poughkeepsie, NY,  and earned her MBA from the Stern School of Business at New York University.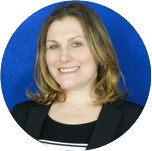 Jennifer Pruski
Mrs. Jennifer Pruski has worked in the defense industry for over 10 years on various programs supporting different government agencies. Her roles have included various stages of product development for The Boeing Company. She currently works as a Manufacturing Manager with focus on supply chain and procurement. She received her Bachelor's degree in communication from Penn State University and her MBA with specialization in marketing, international business, and strategic management from Villanova University. She is also certified in Configuration & Data Management and holds a certificate in project management.